Over the past three and a half months, I have been looking at how Google treats 302 redirects. My initial test was to see if a page that reports a 302 HTTP response code would retain its rankings. I quickly found that the page actually dropped out of the rankings, quickly killing this theory.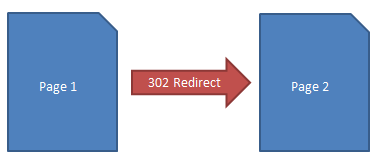 What I found, however, was counter to everything that I've been told and tested before, which is the commonly accepted assumption that 302's don't pass link equity/PageRank. My tests suggest they do in certain situations, at least for a period of time.
While Page 1 dropped out of the SERPs, Page 2 appeared. With these results I performed a couple tests looking at rankings when 302's and 301's were applied.  (If you're lazy there's a conclusion at the bottom).
Test 1A: 302 Redirect to a Related Page
For this test, I utilized my old website from my independent consultant days – I did a 302 redirect from the homepage of my Santa Barbara SEO site to the consulting page on this blog. The homepage of my old site was very targeted for the term 'Santa Barbara SEO', and despite that I no longer live there, the page typically ranked second or third for the term. Comparatively, my consulting page on this site should not rank for 'Santa Barbara SEO', but I would guess that Google associates the page, and more largely my site, with the high level topic of SEO.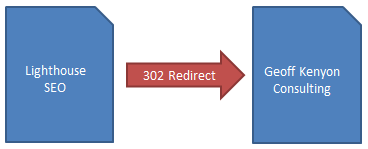 Contrary to what I expected, I started to see geoffkenyon.com/seo-consulting/ ranking for two of the three phrases I was tracking, 'Santa Barbara SEO' and 'Lighthouse SEO', with respective rankings of 21 and 3 (compared to 'normal' of 3 and 2).
While these rankings aren't that strong, it's important to remember that www.lighthouseseo.org is a pretty weak site. There is only one root domain linking to lighthouseseo.org with the anchor text 'Santa Barbara SEO' and only three root domains linking with anchor text containing 'lighthouse seo'.
Test 1B: 301 Redirect to a Related Page
I repeated the same test but simply changed the 302 to a 301 redirect.

This showed significantly more link equity was being passed through the 301 redirect than the 302 redirect. The chart below shows the rankings for different queries when a 302 redirect and 301 redirect are applied to geoffkenyon.com/seo-consulting/

As you can tell the 301 redirect passes significantly more value than the 302 redirect though it is near impossible to reverse engineer exactly how much value.
Test 2A: 302 Redirect to an Unrelated Page
The previous test provided some pretty interesting results but I wanted to try it again and make sure that it wasn't a fluke. For this version, I wanted to try it on a domain that was not relevant and had less Domain Authority. I chose Coast Mechanical, a water treatment service in Atascadero, as a 'partner' since it fulfilled both of these requirements.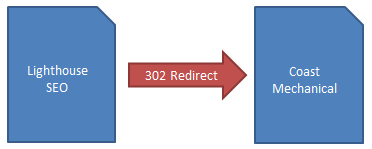 This produced a few weird results. The first was that Coast Mechanical did not rank at all. Rather lighthouseseo.org continued to rank, but it defaulted to the rankings observed when the page was 302'd to geoffkenyon.com/seo-consulting/.  While the URL ranking was lighthouseseo.org, the title was simply 'Lighthouse SEO', not the optimized title, and the meta description was pulled from the Coast Mechanical meta description.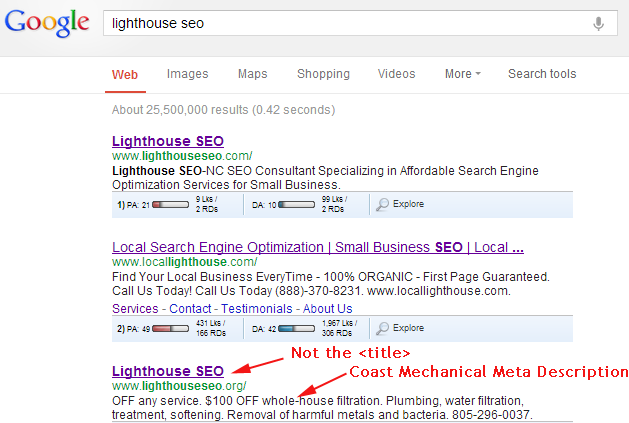 Test 2B: 301 Redirect to an Unrelated Page
Again, I repeated this test, but changed the 302 redirect to a 301 redirect.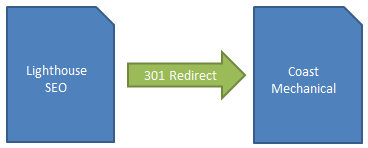 This time Google ignored the redirect. No link equity was passed to Coast Mechanical but Lighthouse SEO was removed from the search results.  I think I had implemented too many redirects in too short of a time span and Google didn't place trust in my most recent redirect.
Conclusions
From these tests, it looks as if 302 redirects pass link equity, though it is significantly less than the amount passed through a 301 redirect. Though the 302 passes some link equity or PageRank, you should still use 301 redirects as they pass more value.  It also looks like if you have a page and redirect it to different places several times within a certain time frame, Google will stop trusting your redirects.
If you would like to receive email updates from me with tips and insights on online marketing & SEO, you can sign up here.