There are a multitude of choices when the time comes to choose a new website analytics software service. While this chart is outdated, we can see that Google Analytics, Omniture (Site Catalyst), Core Metrics/IBM Analytics, and Web Trends were the big players in 2011.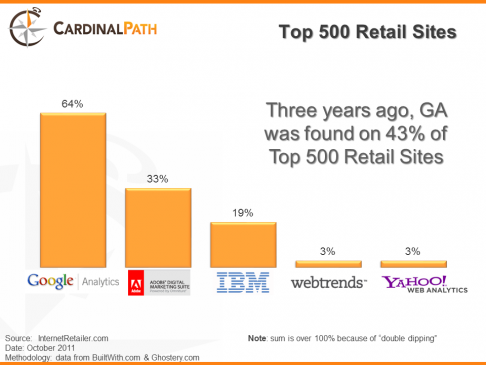 With the exception of Yahoo Web Analytics, this is largely still true though we are seeing the emergence of smaller companies such as Clicky and Moz Analytics.
It is worth noting that in some categories such as ecommerce and extremely large sites, Omniture holds a much larger market share. The chart below shows Web Analytics Market Share for Etailers in Internet Retailer's top 100 sites.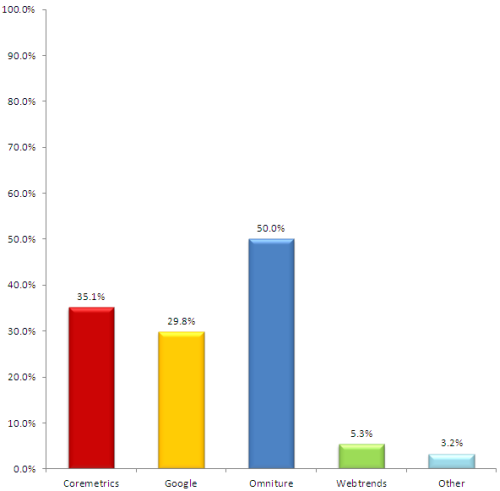 While all the players are the same, you can see Omniture and Coremetrics have much larger market shares in this segment.
When people shop for an analytics program, they tend to focus on the wrong elements. The most common questions that I see people ask are: "What is the functionality and capabilities of the software?" and "How customizable is it?".
While it is important to be able to track events on your site and your analytics needs to meet your business needs, the reality is that any major analytics platform should be able to meet your needs.
What's typically overlooked, but more important, are the following two questions:
Can I customize the software myself?
How intuitive is the web analytics platform?
Self Service: Can I Customize The Software?
Every good analytics solution is customizable. Every site has specific events and goals that they want to track and "unique" attributes that need to recorded. The question isn't can you track these events that are important to you, but how can you track them.
You (or your developer) should be able to customize your analytics software. If you are dependent upon your provider to make changes to the software for you to be able to track something new, you're putting yourself in a bad position. This prevents you from being agile and from easily testing things.
Even if you don't have the knowledge in house to be able to customize your software, there are typically plenty of resources that can be quickly found from a Google Search or you can find a consultant and utilize their knowledge. Either way, you'll end up getting your customizations done faster and more often than if you were dependent upon your analytics provider.
 Actionable Analytics: How Inuitive Is the Platform?
Your analytics need to be actionable. If they aren't, you might as well not be running analytics. Analytics exist to help you understand the performance of marketing campaigns and how people interact with your site and its features. When analytics software is hard to use, slow, and generally confusing to people, the analytics get ignored.
Web Analytics software can provide extremely useful information to people at all levels of your organization, but they have to be able to access the information they need. And really, no one wants to go through days of training to be able to use reporting software.
If you need to find a new web analytics platform, focus on ease of implementation and ease of use – If your information isn't accessible, it's worthless as people won't use it.